Priceline Grasps Local Deals in NYC with Group Commerce Inc.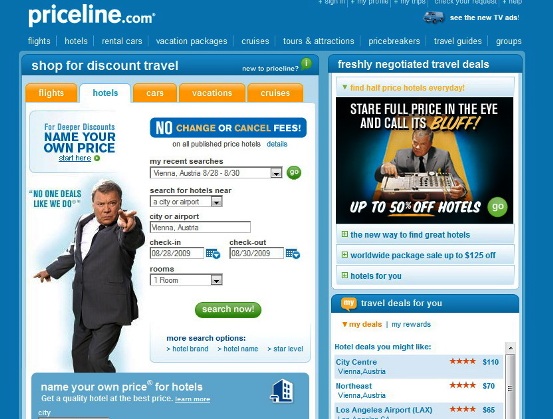 Brian EK, spokesman for Priceline, has released a statement saying that Priceline.com is managing local hotel and travel deals in New York City. According to the statement, Priceline have started testing the service of local deals in New York. Ek also said that the customers of Priceline are typically bargain-minded so they could get some benefit from the deals.
News articles said that Priceline and Group Commerce Inc. (http://www.groupcommerce.com/) were working together to provide local restaurant, spa and retail deals. Priceline did not make any official PR announcement but there was an email sign-up page for Priceline.com for local deals on the website. It says: "Deals coming soon!".
Besides New York City, other cities such as Philadelphia, San Francisco, Seattle, Atlanta, Boston, Chicago, Dallas, Los Angeles, Miami and Washington D.C. are also included in the list. There is also a "national" entry. It indicates that the business will perhaps reach throughout the nation.
Group Commerce Inc. was co-founded by a number of former DoubleClick executives and funded by Lerer Ventures, Spark Capital, Carmel Ventures and Bob Pittman, the founder of MTV. Priceline has noted in the FAQ page about Priceline.com local deals that Group Commerce is responsible for the merchandising of record for the deals and that the customer service is different from the regular customer service of Priceline.
Priceline is taking a big step to optimize the marketing power of the Priceline Negotiator in order to gain more benefit from the new business. The statement from a local deals page:
The Priceline Negotiator is known the world over for his deal-making prowess. Now, he's coming to your town to negotiate the best deals and discounts he can on local restaurants, products, services and more.
However, Priceline has made a distance between the online travel agency business, which becomes the core business, and the new local deals business:
You won't find these deals on priceline.com. To see them, you'll need to subscribe to our new, exclusive priceline.com Local Deals service. It's easy to subscribe and, once you do, we'll start sharing all these fantastic local bargains and deliver them right to your email box. http://localdeals.priceline.com/about
Prior to the cooperation with Priceline, Group Commerce has built local deals alliances with DailyCandy, Vital Juice, The New York Times, Active Network, Meredith Corporation, Everyday Health, Thrillist and also Boston.com.