The Biggest Green Project in Crowne Plaza Alice Springs Hotel Australia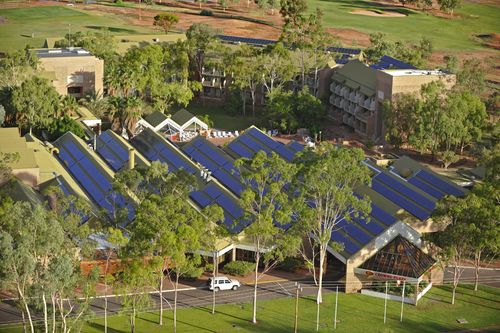 Australia has the largest solar panel. It seems like that Australia wants to go greener. The global warming effect may have felt by people so this step was made to reduce the green house effects and reduce the fossil fuel consumption.
Crowne Plaza Alice Springs hotel makes up their business. It switched the conventional power source to mounted solar photovoltaic (PV system). The cost to build this system is about fifty thousand dollars to make this energy efficiency program works for the beginning. The total amount used to build the entire system is about $3.3 million dollars. The new system will reduce the energy dependent for about 40 percent in a year.
This is one real step of Australia that will go green in all aspects. Hotel such Crowne Plaza has done the first step. The owner of the hotel said that this hotel was pleased to be the first movement. The owner of Crowne Plaza Alice Springs hotel Investnorth Pty Ltd hopes that the other business in Australia will do the same thing.
This hotel's energy efficiency program will also hold drawing live data, TV channel, heating and cooling technology in the room, replacement bulbs with energy efficient bulbs. The bulbs will help the hotel to reduce the energy consumption up to 27,000kWh per year. It is a big amount of energy. All the places in the hotel such as corridors, restaurants, rooms and everywhere in the hotel will use this bulb.
Crowne Plaza hotel also said that this hotel is located in the hottest spot in Australia so there is plenty of sun which means solar energy for their new program. This hotel is green hotel with solar panel program that will please the guests who also concern about environment issues. The business has shown the intention to also involve in this environment problem.
For more info visit the Offical Website of Crowne Plaza Alice Springs Hotel