Noise: Top Hotel Nuisance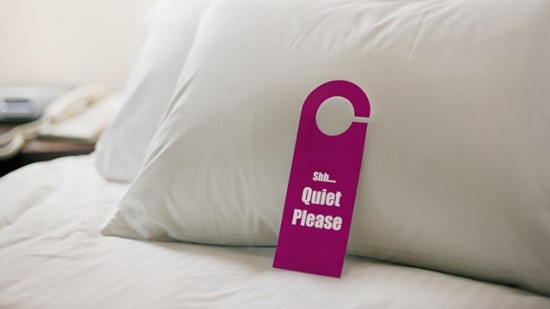 According to the J.D. Power and Associates North America Hotel Guest Satisfaction Index Study this year, mostly people complain about noise during their stay at some hotel. Travelers can live in a smelly room with ignorant staff and snail-like internet connection, but they can be totally annoyed if they can hear neighbor's snore at night.
Crowne Plaza obviously takes the snoring issue very seriously as the hotel has snores monitor officers who patrol through the hallways at the hotels across Europe. Stuart Greif, J.D. Power's vice president of global travel, said "It can certainly hurt satisfaction, there's no doubt."
Florence Eavis, the spokeswoman for the group that owns the hotel, IHG , said the management regularly received complaints over the snoring guests staying next to the complainers' room.
The use of a snore monitor, who patrols the hotel's quiet zones to ensure guests remain undisturbed, is an easy and effective way of ensuring our guests can sleep easy, she said.
The company has not planned to implement the same strategy to the hotels based in the United States. Eavis explained that if the customers in the U.S. demand the same monitor technique, the company will not hesitate to fulfill the demand.
According to Road Warriors of the USA Today, besides snoring guests, other nuisances that can be very annoying are slamming doors and hotel personnel's out loud conversation. The romance of the couples who stay adjacent and leakage in the toilets also sometimes become the culprit.
Talking about slamming doors, Drew Guenett of Scottsdale complained, "Is it that hard to just close the door?" Meanwhile, Jerry Quintiliani said the most irritating noise is clomping feet of the guests who stay above his room. Some people also find it hard to sleep when their neighbors are having a party all night long.