W Hotels Human Rights Campaign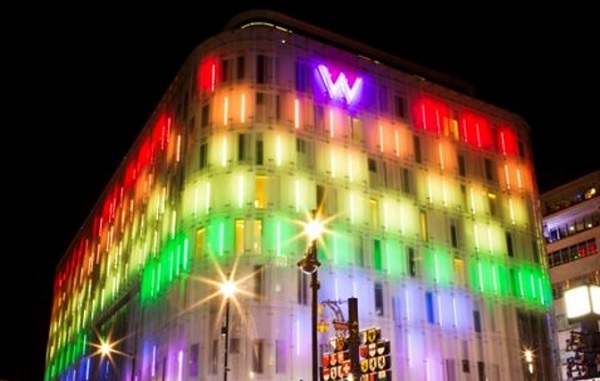 W Hotels Worldwide has recently announced that they are getting into a strategic partnership with HRC, or the Human Rights Campaign, which is the biggest organization working for the civil rights for bisexual, lesbian, transgender, and gay equality. As an HRC partner, W Hotels is going to offer incentives and exclusive packages for HRC. W Hotels wants to show that they remain committed to nationwide equality. W Hotels wants to keep developing effective LGBT programs to support an important cause.
Dave Marr, the Senior VP of North America, says that the hotel wants to welcome everybody, irrespective of sexual orientation. John Lake, the Director, Corporate Development at HRC, says that they want to develop their ongoing relationship with the hotel chain. Starwood is committed to LGBT employees and it shows by the 100% score they have achieved. And now their offers for LGBT travelers show their commitment for the community.
W Hotels is offering a special Pride 365 package at the W Hotels & Retreats in Canada and the US. Those who stay at any of the properties overnight can get a one-year membership to HRC and would be eligible for three-times Starwood loyalty points. The hotel has promised to donate $10 to the Human Rights Campaign for every package bought. The $10 donation is for each stay at any of the properties of the hotel chain.
W Hotels has announced that they will be partnering with HRC on many other galas and events throughout the year. This will include VIP dinner specials in the most happening regional markets and auction packages in some of the most recently renovated W Hotels properties, including in the French Quarters of New Orleans, Seattle, San Diego, and others.
W Hotels began their empire with a hotel in NYC way back in 1998. Since then, the brand has been supporting the issues of this community. W Hotels has, from time to time, gone into charitable partnerships, offered Pride programs, and taken up initiatives for same-sex marriage. Leading LGBT groups have recognized their contributions and efforts. In 2011, W Hotels was the first in NYC to offer packages for same-sex marriage when marriage equality legislation was passed. W Hotels supports Logo New/Now/Next Awards in the PRIDE parade of San Francisco and LA's Logo New/Now/Next Awards.