TravelClick Has Launched New Product of Hotel Web Solution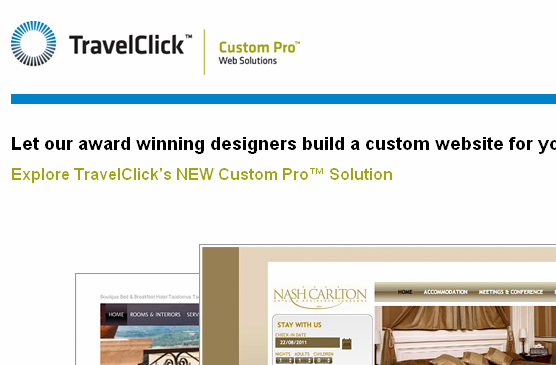 TravelClick has launched a new product called Custom Pro Solution.
The leading provider of profit generating solutions for hotel administrators around the world will be pleased with the new product. It has the ability to provide customized web solutions that implement reliable functionality enhanced by TravelClick after years of experience developing websites for hotels.
The web design team of TravelClick has a great reputation worldwide. They have successfully grabbed several awards such as Web Awards, HSMAI Adrian Awards, Internet Advertising Competition Adwards, W3 Awards and Interactive Media Awards. All of the awards are given for their fresh and creative design.
In the latest product, the team will work hard to organize a concept that will contribute to the development of the website in terms of the design and system. The website will be optimized to get a maximum result of systematic search traffic and for lead conversion.
In order to help hoteliers gain more revenue, Custom Pro provides a number of useful functions such as eRFP functionality, widgets for booking, email capture, regular SEO updates and maintenance and also distinctive guest comments and offers rotators.
Jason Ewell the vice president eCommerce solutions at the company said that people now are more often booking hotels via website compared to the past.
"A website that can provide the needs of the customers can contribute to the success of the hotel," he said.
"Custom Pro enables hoteliers to build a premium web experience and keep that experience up-to-date, with no up-front cost and no long term commitment," he added.
To keep the website stay updated, hoteliers have to pay a fee once in a month. They can also end the subscription at any time. TravelClick can provide extra service like copywriting facility for an extra charge. Meanwhile, website translation is provided for free.
Related Link: custompro.travelclick.com