Fairmont Pacific Rim Vancouver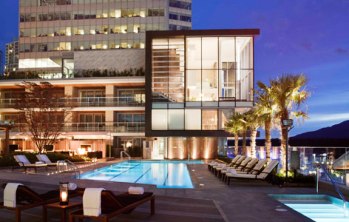 Fairmont Hotels and Resorts announces a new hotel re-opening in Canada.
introduces the new design of its new Fairmont Pacific Rim Vancouver hotel.  This hotel is built and designed to have the latest appearance. This Vancouver hotel is designed by James Cheng. It will have the appearance which is called as "Vancouverism" which combines the west coast and the best of Asia in its decoration and plan.
Haute art is also another part of the new Fairmont Hotels and Resorts. It will have art touch on its exterior and the interior. Liam Gillick public artwork will wrap the sides of the Fairmont Pacific Rim's façade. It will make the pedestrians to stop walking and appraise or at least looking at the artwork. The investment to have it is about one million dollar.
This Fairmont hotel is designed thoroughly so that it will also have a scent. The scent theme is chosen as memory. It will have a special bouquet that is selected carefully for Fairmont Pacific Rim Hotel in Vancouver. The theme of the scent is turning moments into memories for our guests. It will also have aroma sytems that will create the scent of nature like waterfall. It has clean natural aroma with jasmine. Jasmine will provide strength in loves and money.
The next thing that will be put into this Vancouver hotel is Origami sculpture. This is traditional Japanese arts in paper folding. The master of Origami who is on Vancouver is Joseph Wu will created a sculpture with huge size to be places in the lobby ceiling and it will illuminated that will make it appears like a light fixture. This person craft has been achieved various recognitions in the world such as from Intel, Stolichnaya Vodka, Volkswagon and Nagano Olympic. This person has been considered as a celebrity origami.
Among all the Vancouver hotels, the Fairmont Pacific Rim Hotel is the one you should visit, when you have spare time and enjoy the high class building as well as design for beyond luxury experience.