Kayak to Push Package Comparisons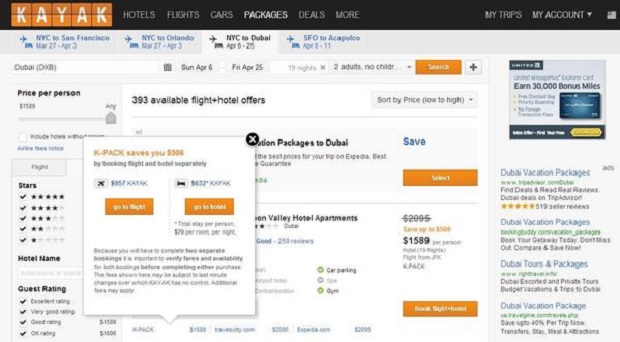 American travel metasearch engine Kayak is betting big on its package sales. The firm is focusing on the UK and Europe for its expansions. Kayak was taken over by Priceline, which is the parent company of Booking.com, for £2 billion in 2012. Jan Valentin has been appointed as the Managing Director to oversee their expansion plans.
Kayak introduced package holiday price comparison service and dynamic package deals in May 2013 with the On Holiday Group, in line with the preferences for package deals among Europeans. The new CTO, Giorgos Zacharia, says that Kayak is testing package deals in the US as well at this time. Traditionally, people in the US don't prefer packages, though booking a hotel and a low-cost carrier together can mean significant savings. And so, they are looking for relevant package providers. But only those package providers that can receive bookings online will feature in their price comparisons.
The company is also working on user experience improvements, a natural extension within this extremely competitive niche. Skyscanner is a popular player in the comparison niche, and of course there is Google as well.
Most of their improvement efforts are to offer transparency and price accuracy. It's obviously essential that the price users see in the results page is that they actually end up paying. It is important for the credibility of Kayak. They have a payment fee calculator to estimate all additional costs and show the final amount. Suppliers who are not upfront about this are going to be demoted.
Kayak is taking data feeds from different sources for flights. They have recently added Kayak Mix to allow users to compare prices and find cheapest flying options more easily. Zacharia says that personalization has become the key now. They have now gone into price forecasting as well.
Kayak wants to make their website smarter. They are working on making technology more intelligent to allow people to find out more flexible things, such as, whether a hotel can take in larger groups or not.
The 29th version of their mobile app is doing well. It has been downloaded 35 million times. They have recently redesigned the app. The new design is going to simplify the mobile experience.
A tablet-optimized version of Kayak is going to be launched in Europe soon. They are also planning a map-based search feature known as Explore. Users will be able to filter results on many counters.