Google's Hotel Finder Launched New Feature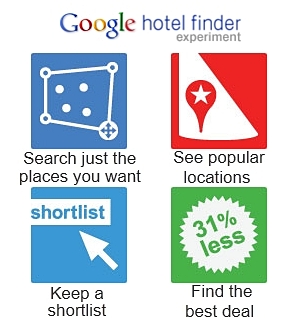 Google's promise to bring simplicity and ease to the people when it comes to the travel stuff is coming true.
Previously, the company said that the acquisition of the company with travel software company ITA would bring an "innovation" for travelers.
The company comes up with Google Hotel Finder that uses landmark to filter hotels the travelers want to search for. The new method brought by the tool is unusual yet very brilliant. The "innovation" deserves a celebration because previously the tool just featured a "normal innovation" like the other websites.
The travel time filter only works with the cities in which the company has cooperated with local transit agencies to include their data into Google Maps. It is slightly disappointing because in reality, Google's Hotel Finder has a wide scope that includes various destinations around the world.
With the new features offered by the tool, you can search for a hotel based on the landmark that you want to visit. For example, you plan to travel to Rome and try to find hotels located in the immediate vicinity of Colosseum. But in the same time, you want to stay in a cheap yet not disappointing hotel. The new feature will work for you. It gains many praises from reviewers. Some of them said the feature is unique and useful.
Google's Hotel Finder is a brilliant tool created by the company to help travelers find the most suitable hotel. Besides finding a hotel based on the nearby landmarks, travelers can find hotels based on the reviews, ratings, hotel class and price just like other usual websites.
It is hoped that the other websites that run in the same field with Hotel Finder can catch up with it or even exceed the achievement so travelers can get more benefits from the competition.