Executive Lounges to Go Friendly with Teenagers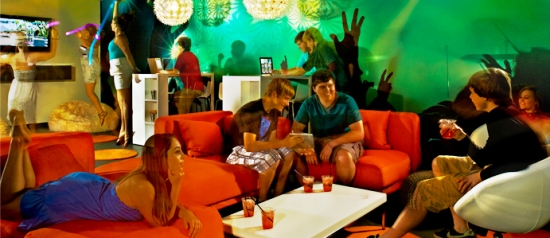 Traveling will be more fun with family. It is the right time to have quality time together to speak and act closely to each other. There is also a problem with having a family together since we know that each family member has different opinion in choosing a place that is why you need to have a good hotel that will accommodate every family member needs.
JW Marriott Starr Pass Resort & Spa's Blur Teen lounge will handle everything for you. Director of the Guests experience Kelly Harris said that the hotel felt like as a resort we had things to so for the kids as well as the adults but this hotel had not many activities for teens. Finally this hotel made something to cater the teen.
Blur Teen Lounge is an idea to give a good and luxury place for teen so they can get separated from their parents but still in the hotel's property. The concept of this lounge is to give the teenagers a good place to stay while having a vacation with their family since their family also wants to stay with them. The demand of this kind of service has been increasing for family vacation.
The best thing of JW Marriott Starr Pass Resort & Spa's Blur Teen Lounge is exclusivity. The room is used only for teen use and the parents will only be able to enter this room while accompanying by teenager. The space is designed with the latest style and trends as well as high technology facilities. The lounge has two apple iPads, Playstation 3, Movie area, big flat LCD HDTV as well as Xbox 360 and DVD library.
The most important thing to make it keep good and attractive is to keep up to date on the latest trends and style as well as technology that are used by teen nowadays. This will be a very good facility in a hotel who has a lot of family guests with teenagers.
For more info visit the Offical Website of JW Marriott Starr Pass Resort & Spa's Blur Teen lounge