European Hotel Forecast 2014-2015 Puts Dublin at the Top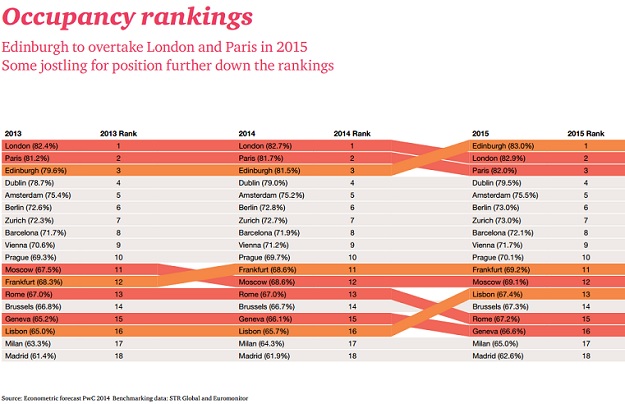 The third installment of a very interesting study released by PricewaterhouseCoopers has revealed the European hotel forecast for 2014 and 2015 is quite good, with some surprising shifts in the rank across the two years.
The study, entitled "Room to Grow," was released last month and focuses on 18 cities—all important tourism and business hubs, attracting about 80 million of the 560 million tourists that visited the continent in 2013. While these cities, which have a total of 680,000 hotel rooms, face challenges—just like every European city does—they seem to be overcoming them, and the hotel industry is definitely helping. Of those 18 cities, all but one—Madrid—is expected to see growth between 2014 and 2015, though the decline there is expected to be slow.
Dublin is expected to see the most growth in 2014 thanks to strong demand but little new supply, followed by London, Paris, Edinburgh, Berlin, and Frankfurt. But in 2015, London climbs back to the top of the growth charts, followed by Dublin and a slew of cities not mentioned in 2014: Lisbon, Prague, and Moscow.
As far as hotel occupancy rates go, London, Paris, and Edinburgh lead the 2014 charge in the 80% range, with Dublin right on their heels. But in 2015, Edinburgh is expected to eke out both growth and occupancy over London, as Paris and Dublin follow. While many of the 18 cities will race to meet peak-season demand standards, their overall occupancy rates will suffer as low season will leave all of those extra hotel rooms empty.
Swiss cities, most notably Geneva and Zurich, are by far the most expensive cities in Europe. London and Paris are the next two most expensive, though when compared with Switzerland, prices are a bargain.
The study points out some trends that hoteliers should keep in mind, including offering free Internet access (43% of adults say they won't stay in a hotel if it isn't offered there), mobile booking options, and the ability to switch digital platforms without issue.
Read the full "Room to Grow" study here.