President Obama Fully Supports Tourism Business in 2012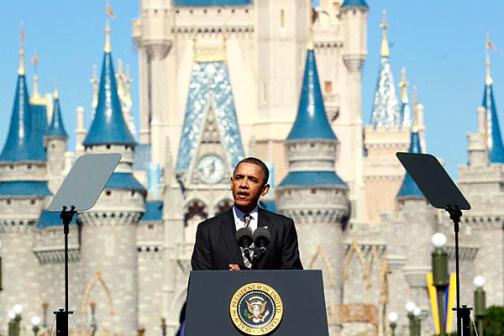 On Thursday 19, 2012, President Obama appeared before the people who visited Disney's Magic Kingdom. He was not there with his family to have some vacation or stuff. He was about to make a big announcement to the hospitality business owners in the country.
The Cinderella Castle behind Obama became the witness how the President expressed his full supports to the tourism of the US. He made an announcement to the world that the United States of America is very open for business. In order to attract more people to come for tourism, Obama ordered the officials who are in charge to ease the visa policies of the US and add the number of countries in the Visa Waiver program.
President Obama has a dream of making the US to be the world's top tourist destination. To make the dream comes true, he expand the visa-processing capacity in Brazil and China by 40%. In those two countries, it could take up to a year to secure a visa to visit America. Brazil and China now develop rapidly in terms of the economic condition. More middle and upper classes appear and it means there are potential factors that will attract them to visit the US. One of them is the simplicity of visa processing.
The President pointed out that to draw more tourists to come to the country is part of his mission to create more employments. He said the more people who come to the US, the more the people in the country can get some job. "It's that simple," he said.
However, the Obama administration will also secure the borders and try to prevent more illegal immigrants to come and settle. Besides Brazil and China, Obama also has a plan to increase the Visa Waiver Program to Taiwan and other countries in the world. Although Taiwan is under the rule of China government, the country has its own rule when it comes to visa policy.
President Obama's speech gained praises from many those who rum tourism business. The CEO of US Travel Associaton, Roger Dow, praised Obama for being the first president who admits that the increase of tourism and travel is significant.