New Hotel Opening: Hyatt Place in Waikiki Beach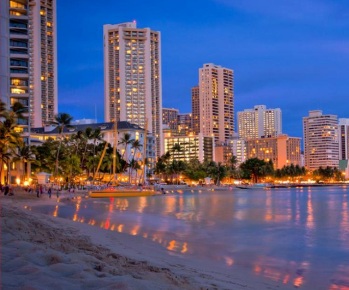 The second building of the property, Diamond Tower will be completed within a couple of weeks. This building is located at 175 Paokalani Avenue, Hyatt Place Waikiki Beach. This new opening hotel will be the first Hyatt to be introduced to Hawaii Market. The building and the interior are designed stylishly with practical amenities as well as purposeful technology with attentive service.
Travelers who hope to get the warm of temperature and service will appreciate this Hawaii hotel. The hotel is located only few steps from the Waikiki beach which is considered as one of the best recreational beaches. The location of this hotel is on a good place to have best views and warmest water for surfers. The shopping district is also close by this hotel.
Diamond Head volcanic crater, museums and world class restaurant are also available within short walk. Families will enjoy the location and their stay at this hotel. Waikiki aquarium, Honolulu Zoo and Kapiolani Park are within easy reach and nearby this place.
Co-chairman of Kokua Hospitality, Rob Kline said that they are extremely excited to introduce the Hyatt Place brand in Hawaii. The Hyatt Place in Waikiki Beach hotel, will be the biggest hotel in this country with 426 rooms in total. The details of the rooms are 191 rooms in the Pali Tower and 235 rooms are in the Diamond tower.
The hotel opening is also designed to have open and airy lobby facing the ocean so the guest will have an ocean and front beach hotel immediately from the front desk. The guests also have various options from this hotel such as ocean view rooms. All the rooms will also feature balconies to have gorgeous view of the Waikiki beach as well as 42-inch HDTV, sofa sleeper, complimentary Wi-Fi and Hyatt Grand Bed.
This international brand for hospitality will be a hit in Hawaii.