Las Vegas Hilton will no longer exists in 2012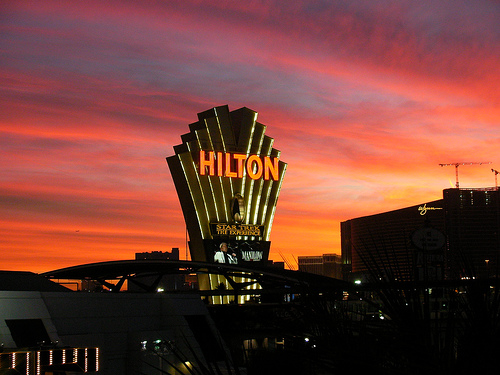 In 2012, Las Vegas Hilton will no longer exists since Hilton Worldwide corporate has decide to end its licensing agreement with the hotel owner. The Las Vegas Hilton (www.lvhilton.com) has been branded as a Hilton since the 1970s. The latest owners which took the hotel in 2004 have been trying to keep the hotel profitable after the recession hits the Las Vegas gaming industry in 2008.
The Las Vegas Hilton receive plenty of business travelers through out the year since it is located right next to the Las Vegas Convention center. Since Las Vegas always become a popular place for conventions, there should be no shortage of interested hotels chains that will grab the Las Vegas Hilton. One minor disadvantage, the hotel is not located on the Las Vegas Strip, but there is a Vegas monorail stop in the property area.
Las Vegas Hilton is usually a great property for Hilton Honors members to do "matress run" to fulfill their membership level. Here's an example of their 4th of July weekend rates:
"June 30 rate going into the July 4 holiday weekend is $43 for a standard room and $93 for a room with Club Lounge privileges. A Grand Room is for $73 which a larger room at 600 square feet. $102.55 per night will put you in a standard room five nights for the entire 4th of July weekend from Thursday, June 30 through Tuesday, July 5."
Since Las Vegas Hilton does not charge a resort fee, those extra $20 per night savings is a great value. Hotel guests usually have to pay those resorts feesat other hotels such as Bellagio, The Venetian and other Vegas hotels. $20 per night for each room will add up quickly and should give you some extra cash in the casinos.
Which hotel loyalty program (SPG, Marriott, Hyatt, IHG) do you think should add the Las Vegas Hilton to their list of hotels?