Find Your "Perfect hotel room" using Room 77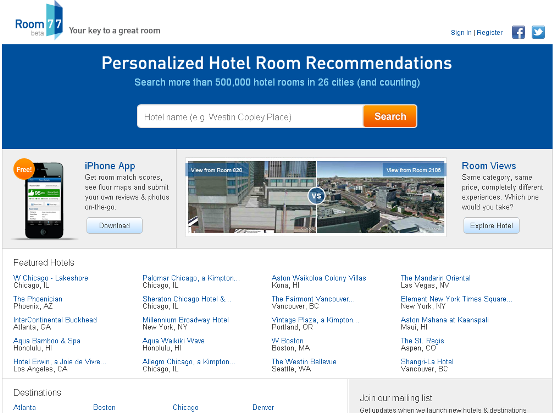 Brad Gerstner founder of a start up site called Room77 (www.room77.com)wants hotel visitors to be able to know exactly which room they are getting before they book a hotel. The site gives a detail hotel floors map with pictures of the hotel rooms which come from previous guests.
Brad got an idea to create the world's first hotel room database and search engine since he always keep a list of his favorite hotel rooms on his Blackberry when he travels. Many of his friends of his family members would ask him to share his list and he decided to take it to the next level by creating room77 . Hotel owners and management also quickly work with room77 after they foresee that site visitors will be more satisfied with the rooms they picked. You are able to filter room by distance to the elevator, height, connecting room or simply by the view from the room.
Room77 might change the future of hotel industry since more and more hotels immediately got direct leads to the hotel site which visitors ask to reserve for a specific room. In the near future you might have to pay more to reserve the same type of room with a more favorable location or view. If it's too difficult of thinking what room 77 is trying to achieve, think about when you reserve an airline ticket. You know exactly where you'll be seated.
With room 77 there will be no more surprise factor in terms of location or view. Hotels will get repeat and loyal costumers with each happy hotel customers. So the site is a great tool for building a hotel brand for hotel managers and fun for travellers to see which room they will be staying in. If you are traveling in the near future, go visit room77 and see if you can find your "perfect hotel room".