3 Ways to Promote An Unexpected Last-Minute Deal Online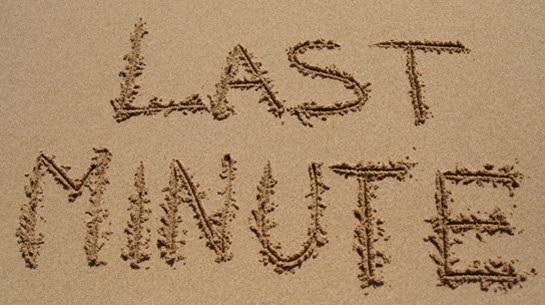 Empty rooms are always a problem for any hotelier. A few years back, there wasn't much you could do if rooms were empty and no walk-ins were finding their way to your door.  However, in today's technological age, there's plenty hoteliers can do to get those rooms filled–even at the very last minute.  Here's how:
Create a Deal
While many travelers plan ahead of time, there are thousands of others who fly by the seat of their pants (no pun intended) and wait around until the very last second in order to see what deals they can get from an airline or hotel.  Be one of those hotels. You may not want to lower your rates for profit purposes, but think of it this way: if you keep your normal rate and the rooms don't get filled, what profit are you making?  Give travelers a break to get them in.  If not a break, then throw in some freebies–a free massage at the spa, a buy-one-get-one at the restaurant, a bottle of champagne.
Social Networks
Most travelers use at least one online social network site, usually Facebook or Twitter.  With, literally, billions of potential guests at your fingertips, put your deal out into the world via every social media tool you have.  Transparency is really an important issue in this case. When you are offering a last minute deal, be clear that the offer is only for a certain night only and list whatever other conditions apply.  When you are using Twitter, add hashtags such as #lastminutedeal or #cheaphotel to reach more people online.
Same Day Sales
High margins and decreased ADRs may prevent several hoteliers from using OTA sites such as Expedia and Hotels.com for regular bookings; however, these sites can be effectively used to gain last-minute occupancy.  By considering the OTA of choice in managing the sales, there is extra publicity that you can get without spending much time, energy and money of the management.  When you have empty rooms to fill, call your OTA marketing manager and explain that you are in search of guests to fill in the rooms right on that day. The manager will help you calculate the best price for the room by considering other hotels' prices. You can also decide your own price.
Use Travel Ads
Pretty similar to the second tip, using travel ads means you ask for help from a second party. You need to put your trust in this company, so choose wisely.  Travel ads are known to be budget friendly yet high-quality.  Expedia Market Management is one company that can work with you on these types of ads.