The third Legend hotel: Sofitel Legend Old cataract Aswan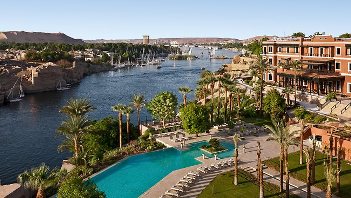 Sofitel Legend Old Cataract Aswan reopens its property after three year closure regarding the completion of renovations. This third Legend property is a five star luxury hotel . The location is in the center of the Aswan banks of the Nile River. The building is a Victorian building of 1899 and has accommodated famous people including Agatha Christie and Sir Winston Churchill.
The name of this new opening hotel is taken from the location. You may do not know that this property sits on the point where Nile River's first cataract is formed. The Sofitel Legend Old cataract Aswan Hotel is divided into two different luxurious sections. The Palace wing has 76 rooms including 45 suites with historical charm of the Byzantine-style striped arches as well as other similar traditional touches.
The Nile Wing has 62 rooms including 37 suites whch features private balconies and guests bathroom facing the Nile River as the view so it is bathing while soaking up the scenery. Those are quite luxury accommodation on Aswan Banks.
Sofitel Legend Old Cataract Aswan is a full-service resort featured with So SPA and dour restaurant including its legendary  1902. This 1902 has been known for its Qualaun crypt and outstanding décor. The combination of Victorian, French and Middle Eastern style was resurrected in the building by French interior designer Sybille de Margerie. The price of this luxury hotel might be expensive but it will be equal with what you got from this outstanding property.
Sofitel legends hotel is a property that combines French style with the local style that makes it more famous and outstanding than any other hotel in this area.
The first legend in July 2009 was Sofitel Legend Metropole Hanoi. The second legend is Sofitel Legend,The Grand Amsterdam in Dutch. The fourth Legend is Sofitel Cartagena Santa Clara that will be launched as the fourth Legend within next year.