10 BEST APPS AND WEBSITES TO VISIT ROME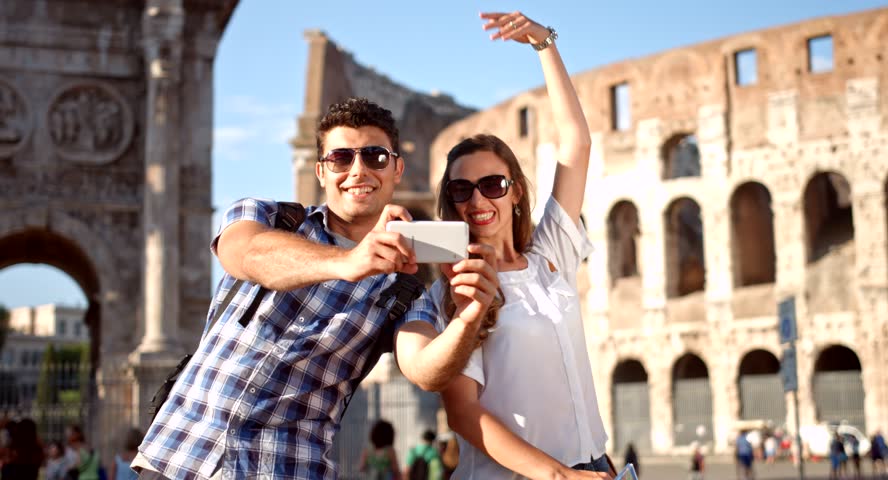 Wandering along the streets of Rome is an hard work as everywhere there is something hidden that you should admire. It could always happen also if it does not concern on your first visit of the Eternal City.
So, if you prefer to abandon the old paper guides of the city, nowadays we think that the best way to discover Rome is relying on some new best apps and best websites born to help both tourists and citizens to be oriented in the city and to be always updated about the most interesting events.
Do not miss the opportunity to use IDotto, an interactive audio-guide of Rome that offers over 25 hours of listening. IDotto describes the most important historical and cultural sites of the city, giving you also the best route to reach them. In addition, this guide gives you some tips about the best cinemas and shopping locations of the city through a personalized description. The strong point of this app is that you can use it during your walking completely offline, without the need of an internet connection.
Would you like some tips to make special your nightlife in Rome? Are you looking for an unforgettable evening with your partner or your friends? Do not waste time and start immediately to use Romebynight to discover all the best valued restaurants, bars, clubs and events in the Eternal City. This useful website permits you to locate all what happens during the night in Rome: discover the best restaurants and wine bars, or the fanciest cocktail bars and discos next to you in a quick way and consult all the information concerning their features. In addition Romebynight suggests you the best tours of the city by night and the most trendy events of the nightlife in Rome.
The best way to keep all the splendours of Rome in your pocket is downloading Ulmon's, one of the best travel guide including offline maps, information about thousands of restaurants, hotels and locals with many useful tips for tourists and local people. Do not care about the internet connection or the roaming, as you can use the local's GPS services and all the contents, without the roaming charges. Ulmon's is easy to use, quick and efficient.
Many people like to move around the city by public transportation, especially by bus. So Probus Rome is the website that simplifies your job, as it can locate the nearest bus stop, giving real time updates and planning your connections. In addition we suggest to have a look on the website Muoversi a Roma, the official app regarding the public transportation in Rome where you find also information about the metros or navigate on CityMapper if you need some options about cycling, taxis or walking routes in Rome.
Do you prefer to call a taxi in Rome? Now the easiest and cheapest way to find a taxi is use an app.
We suggest ezTaxi, an application that permits you to book the cabs and also prepaid the service. So, thanks to ezTaxi you can find the closest drivers, avoid the queues and check the price in advance. Before the arrival of you cab, you can also pay in advance the run and save time. This app is functional and speedy, otherwise you can always use Uber.
Once you are in Rome, you do not need to worry about your flight. You can download on your mobile phone the ADR app (Aeroporti di Roma) and find the information about your destination and all the options that you need to contact your airline. Remember during your stay or before your departure to follow the flight tracking for both airports of Rome, Fiumicino and Ciampino. ADR website is quick and efficient, especially for tourists.
One of the best feature of Rome is the presence of the famous "Nasoni", ('big noses', due to the shape of the tap), some little fountains where tourists and citizens can dip their bottles of fresh water. As they are located everywhere, use this app to find these drinking fountains of clean and safe water around you.
We suggest you this very useful site, especially in the summer to refresh your days in Rome!
Are you travelling with kids? No stress! Use Baby Out Rome Kids Family Guide, a nice and useful website where you can find all the information about attractions and events in Rome and the Lazio region, covering parks, zoos and museums for kids. In addition you can discover also restaurants, hotels family-friendly and shops for baby or child items. Just in case of emergency, this app direct you to pharmacy or children's hospital.
Would you like to learn italian in a funny and quick way? Try Learn Italian and start to interact in italian language. Use this app and find 30 lessons focused on short sentences useful in the most common real life scenario. There are many apps studied to learn foreign languages but Learn Italian has been oriented to the tourists needs, with a combination of audio and text to ask directions, understand menus or ask simple questions during your holiday.
If you need a public toilet in Rome is always an hard work to find it! Use this app, called Wc Rome, to locate the nearest public restroom with addresses and opening hours to over 100 toilets in the city. So you do not need to waste time or money looking for bars or fast foods around you to find a clean toilets. We suggest this app for everyone, tourists and romans. Wc Rome can be updated from users with new information and locations about the roman restrooms.